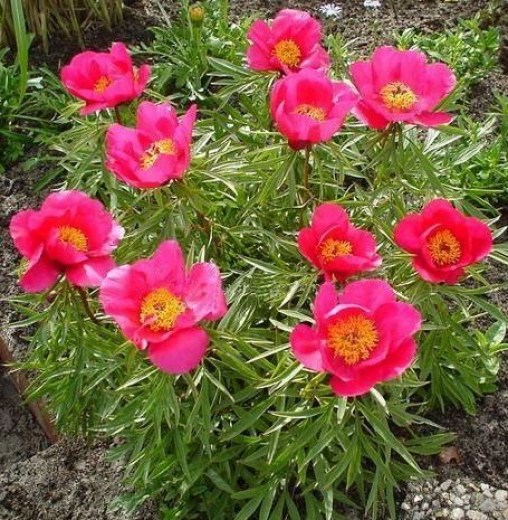 Flowers single, bright scarlet. It is a hybrid between P. tenuifolia and P. lactiflora, the oldest known interspecific hybrid created out of China. Plants are multiflowered, flowers fragrant, sterile. It blooms very early. Cut leaf foliage, that even after blooming, makes a wonderful border plant.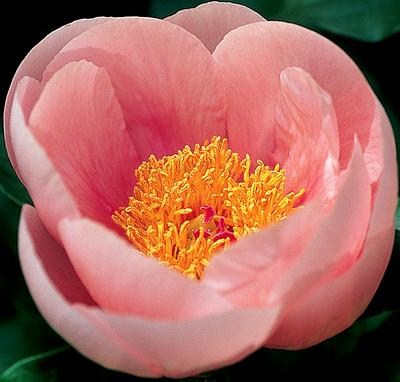 Soft salmon pink single flowers are saucer-shaped. Opening buds hold a true perfect cup-shape for a long time. Pink color shading to a deeper tone at the base of the petals, which surround the golden stamen centre. Perfectly formed, the flowers display a grand elegance and finesse. Flowers mildly fragrant. A lovely peony indeed...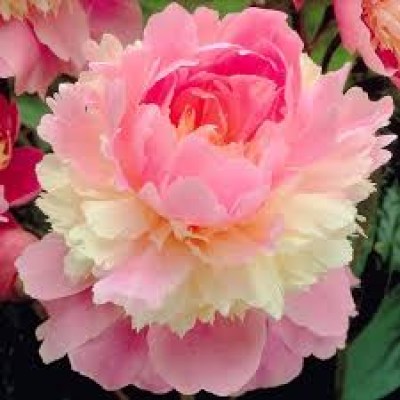 Large (15 cm), double, remarkable flowers are buildt of several levels of small vanilla-cream petals sandwidched between larger strawberry and raspberry colored petals, with a pale yellow color...like a sorbet! Unusual and pretty, with a very nice fragrance which fill your garden. Long lasting flowers, ideal for cutting. PAEONIA POTTED WE DO NOT SEND BY POST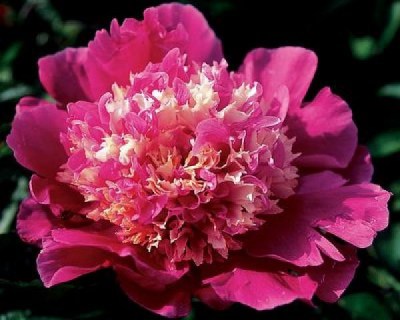 Flower of the Japanese type, very attractive contrasting colors. Fuschia guard petals surround a large center of creamy petaloids with fuschia accents. Fragrant flowers. Height 75 cm. Splendid peony...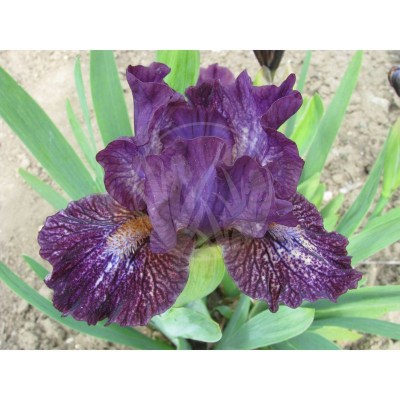 Standards and falls butter yellow ground, wide dark wine-purple plicata marks and veins, ruffled. Beards white, tipped caramel. Pronounced sweet fragrance. Variable falls markings.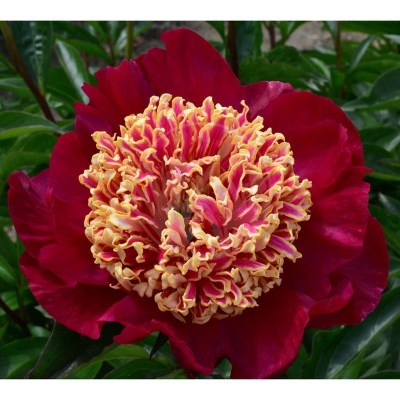 Large bright red petals surround a large center of yellow edged staminodes streaked with red. A very appealing color effect, color holds well. Vigourous and floriferous sort, heat and wind resistant. Great for cutting.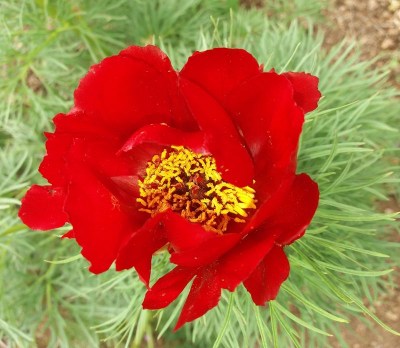 Finely cut leaves, single bright red petals and golden yellow center. Height 30-40 cm. Need very sunny position and well drained soil, excellent for rock gardens. Natural wild species, very rare. Root size 3/5 eye.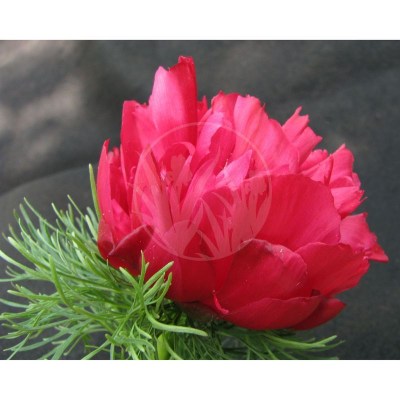 RARITY! Splendid, brilliant glowing crimson red double flower. Finely cut leaves, normal grower. Need very sunny position and well drained soil. Natural wild species, very rare.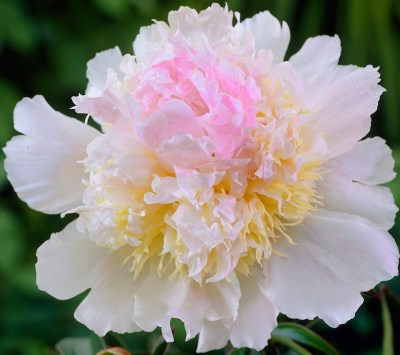 Double flowers, white, wide ivory guard petals surround a large double bomb flower of canary yellow highlighted with light pink petaloids in the center. Light fragrance, good cut flower. Unique white flowers with yellow topping.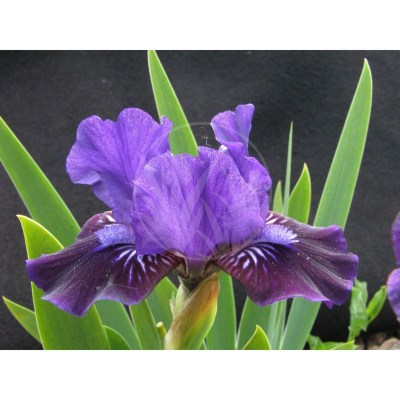 Standards blue violet, falls purple with white rays around beards, ruffled. Beards blue. Slight fragrance. Nice sort from the Czech breeder.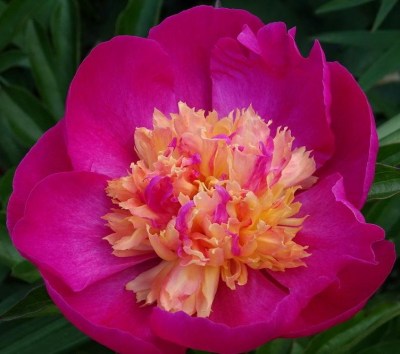 Large, japanese type flowers, pink outer guard petals around yellow staminoids. Flowers fragrant. Fine, vigorous peony...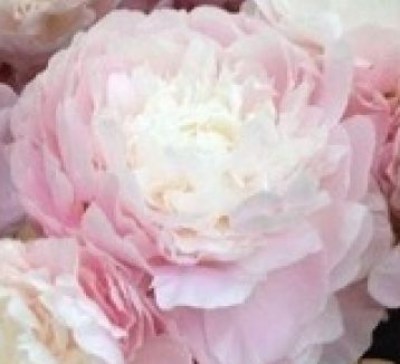 Flowers large, double, blush white flowers, medium high crowned well arranged petals, nice guard petals, unfolds well. Good for cut-flower production, lovely attractive blush color in bouquets. Height 70 cm.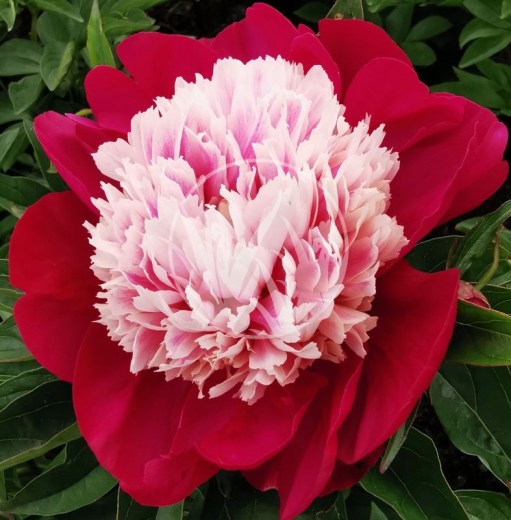 Japanese-type flowers with dark pink to raspberry red guard petals surrounding the full centre of ivory white staminodes. A mature plant forms a compact bush producing many long flowering flower stems. Most deliciously scenting flowers. Always in high demand...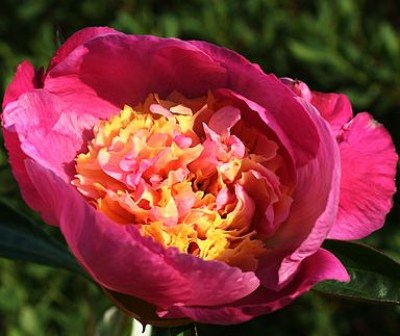 Japanese form of flowers with dark pink guard petals surrounding a center of soft yellow and gentle staminodes. Sweet fragrance. Compact grower, extremely floriferous, stems 70 cm high..